1STDIBS CHRISTMAS GIFT GUIDE
A one-stop emporium for unique, whimsical gifting
---

​Each holiday season, leading online marketplace 1stDibs comes into its own as a one-stop emporium for unique, whimsical gifting. Offering a range of vintage, antique, and contemporary treasures, the highly coveted collection is full of options for even the most hard-to-please aesthete.
​​
​From rare vintage fashion and jewellery finds to iconic homeware pieces, renowned designers and artists sit alongside the most exciting emerging creatives from across the globe. Price points span affordable stocking fillers to the pinnacle of luxury, Natural Beeswax Candles to a Gucci x Bianchi City Bike.
​​
​Below, we've highlighted our top gifting picks for the minimalist, the maximalist, the epicure and more.
---

​The Minimalist
​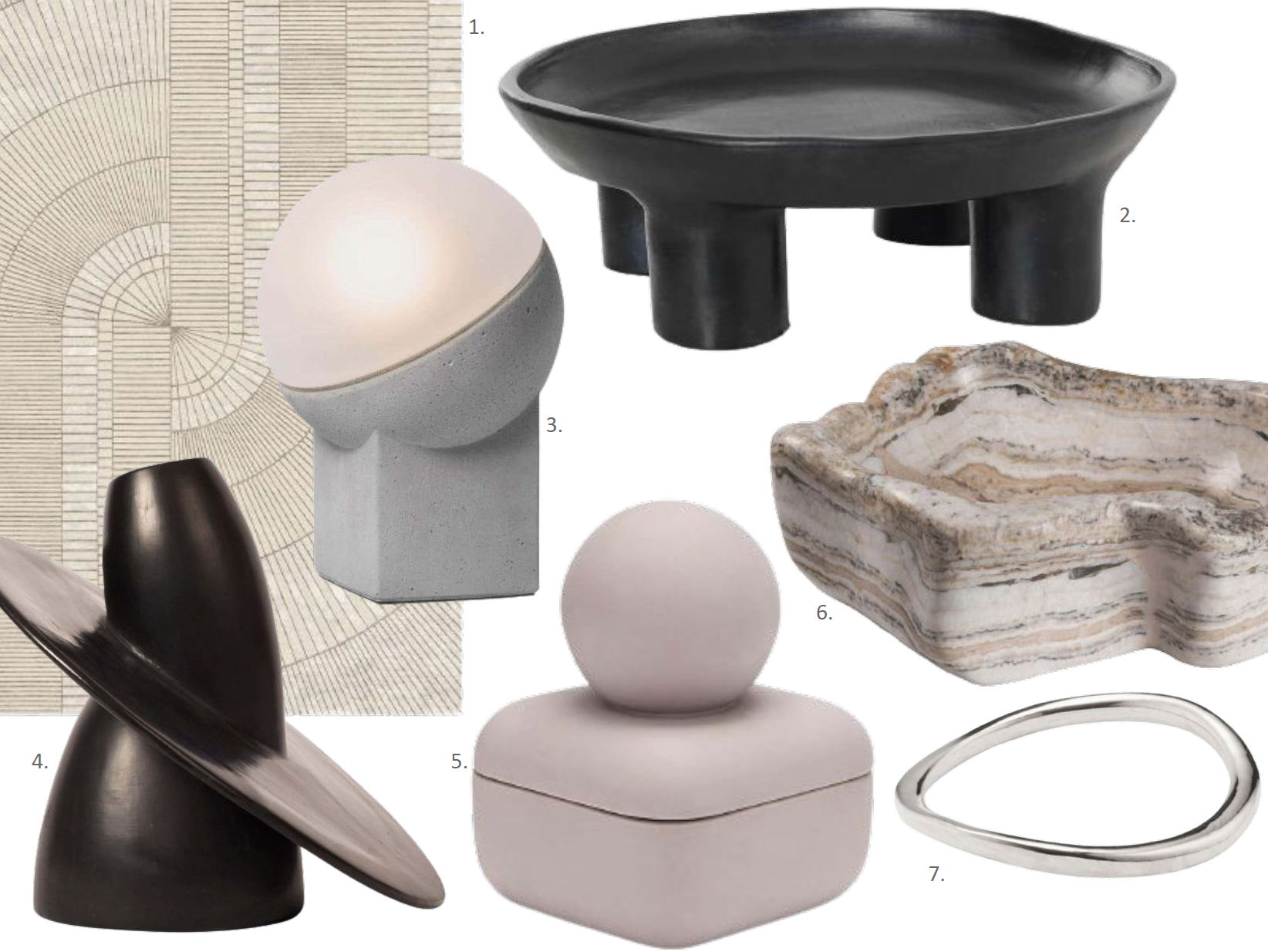 ---

​The Maximalist
​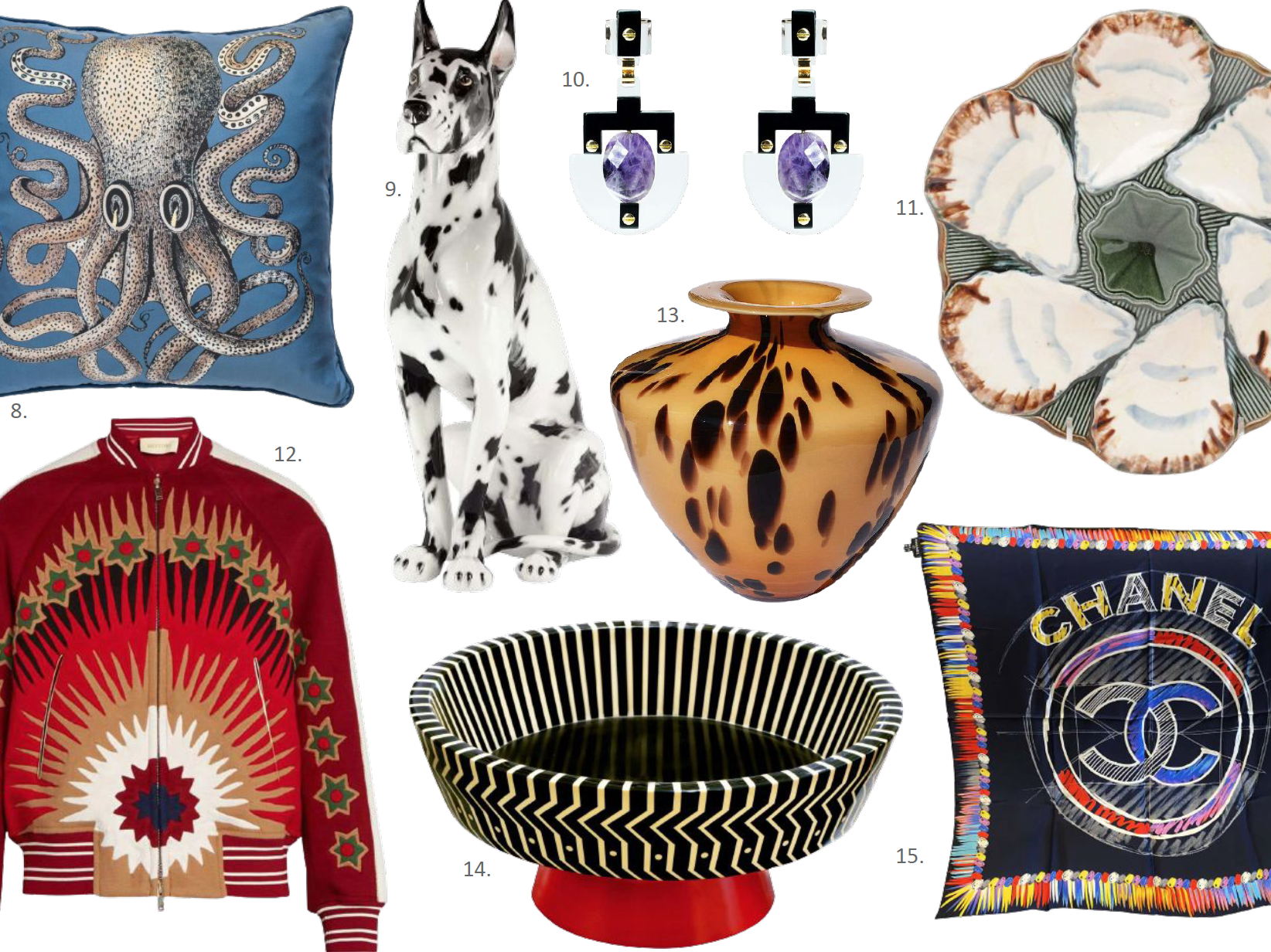 ---

​The Sybarite
​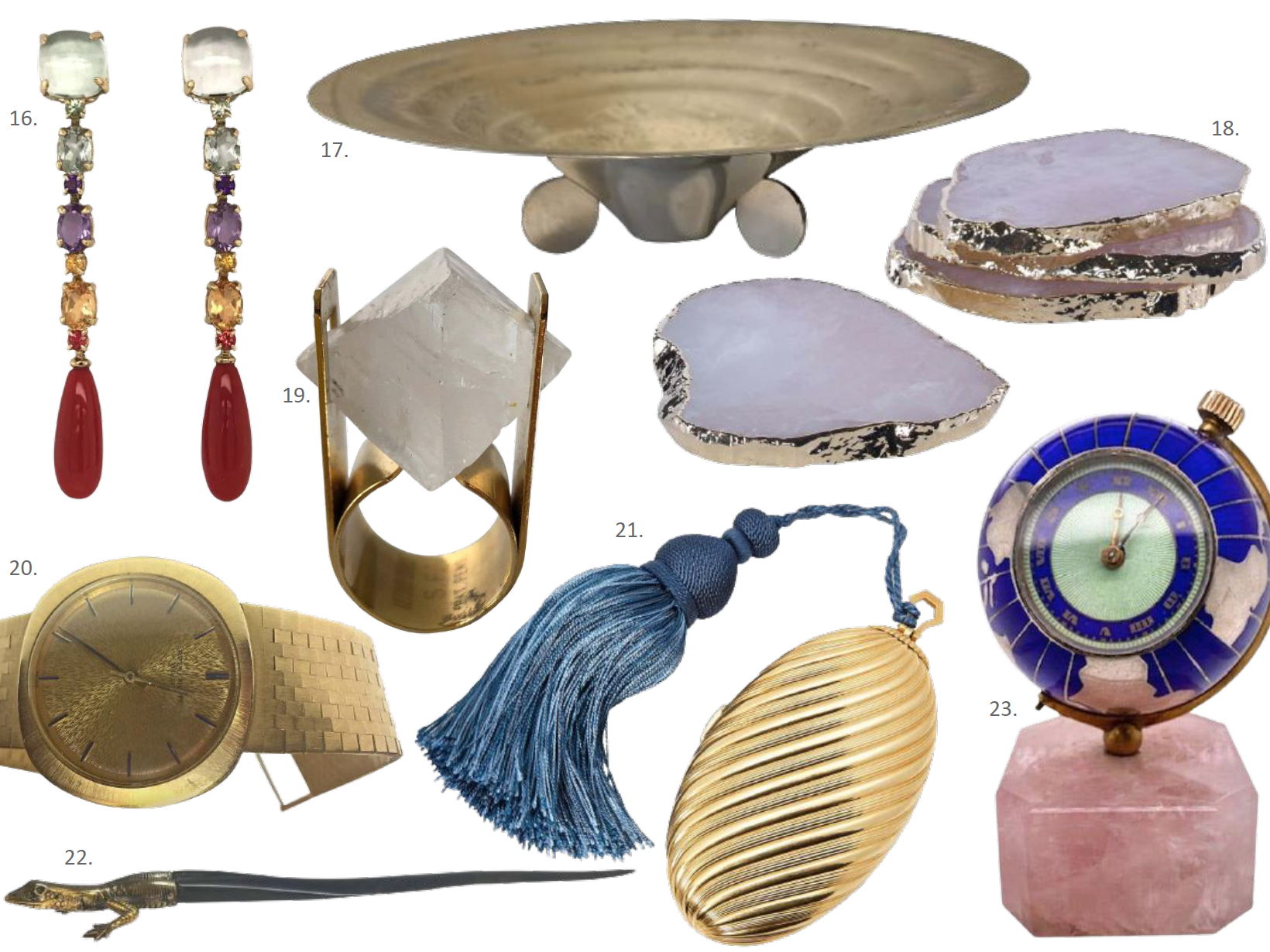 ---

​The Aesthete
​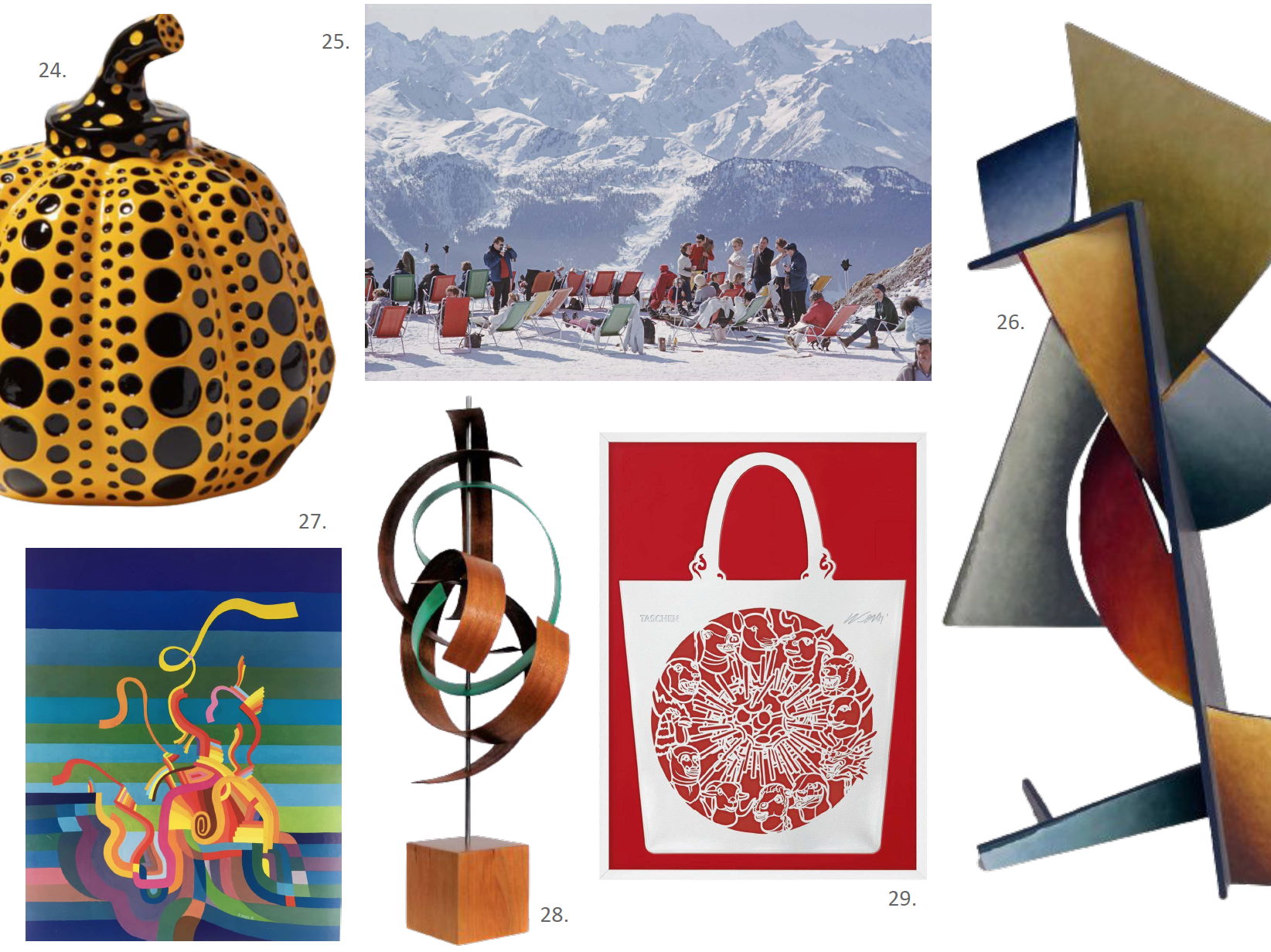 ---

​The Design-Conscious ​
​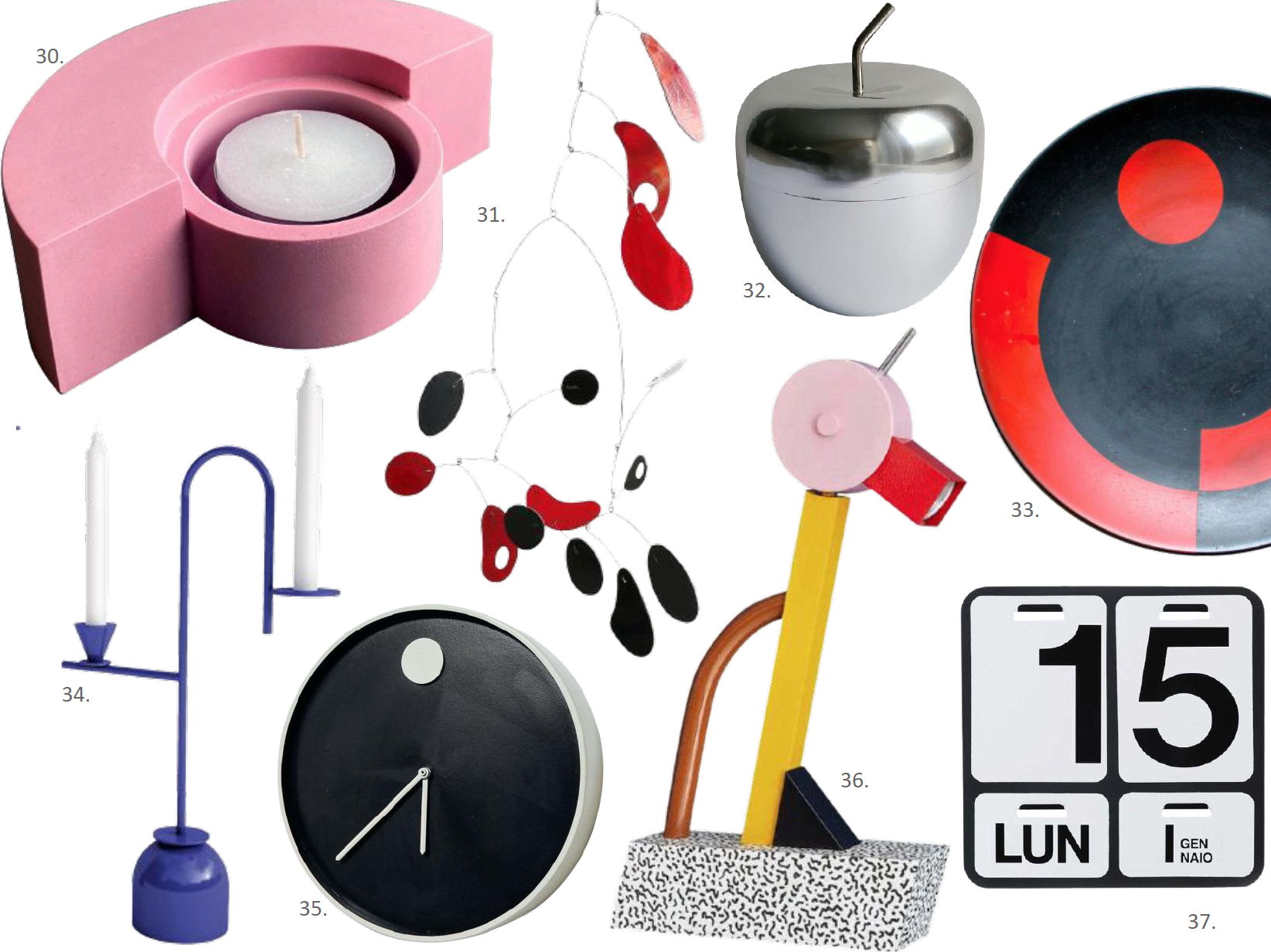 ---

​The Environmentalist
​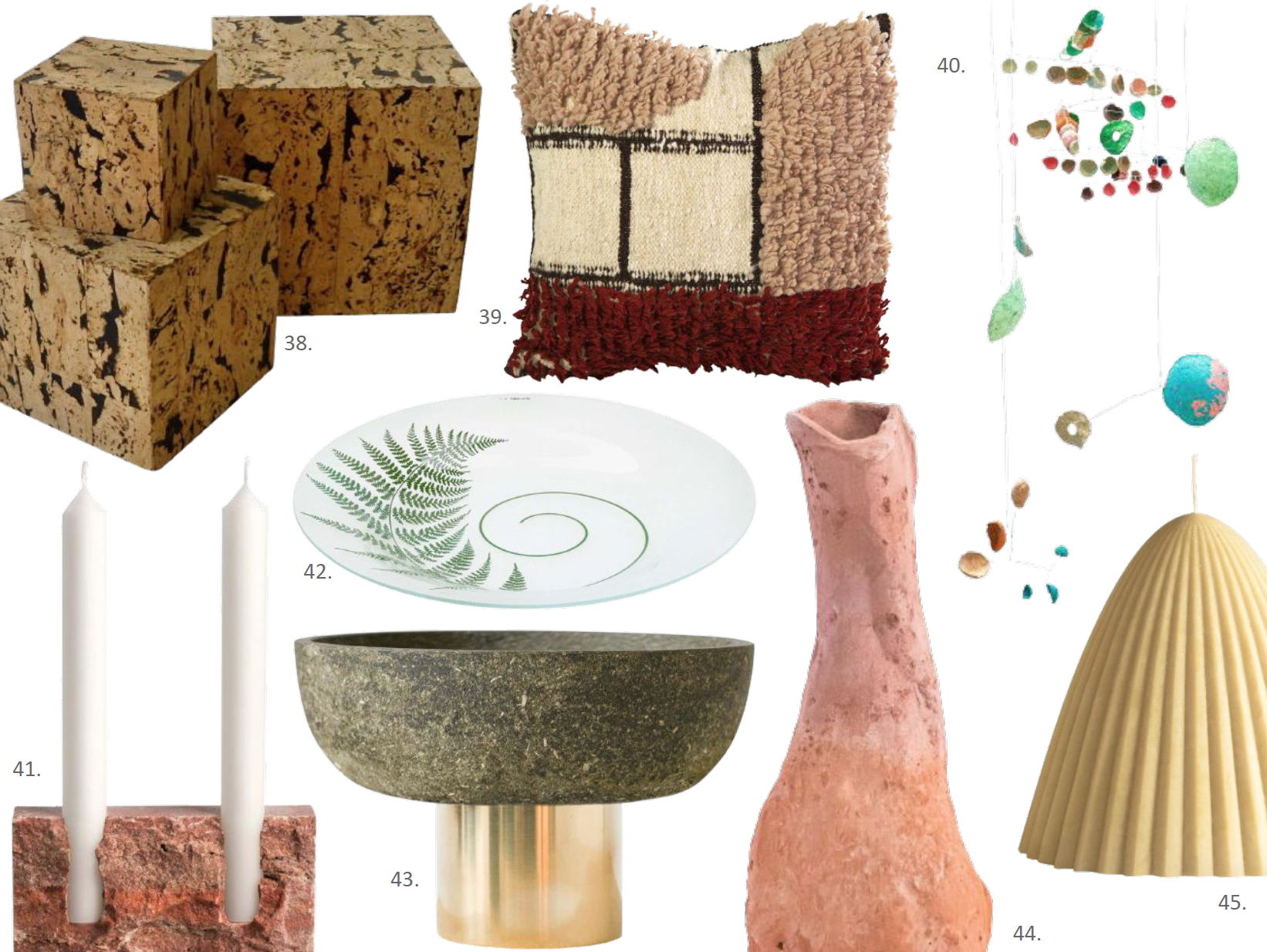 ---

​The Preservationist
​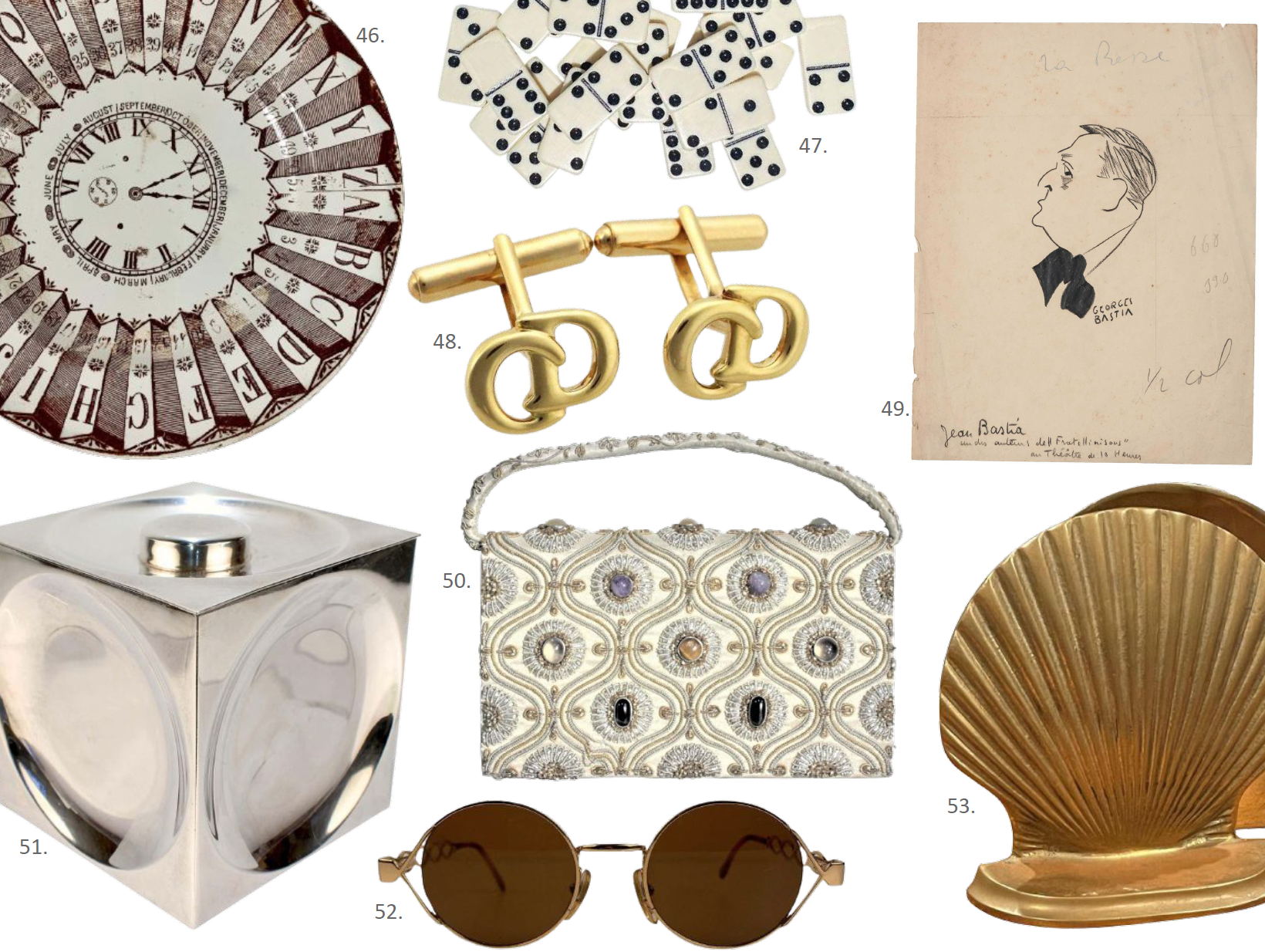 ---

​The Epicure
​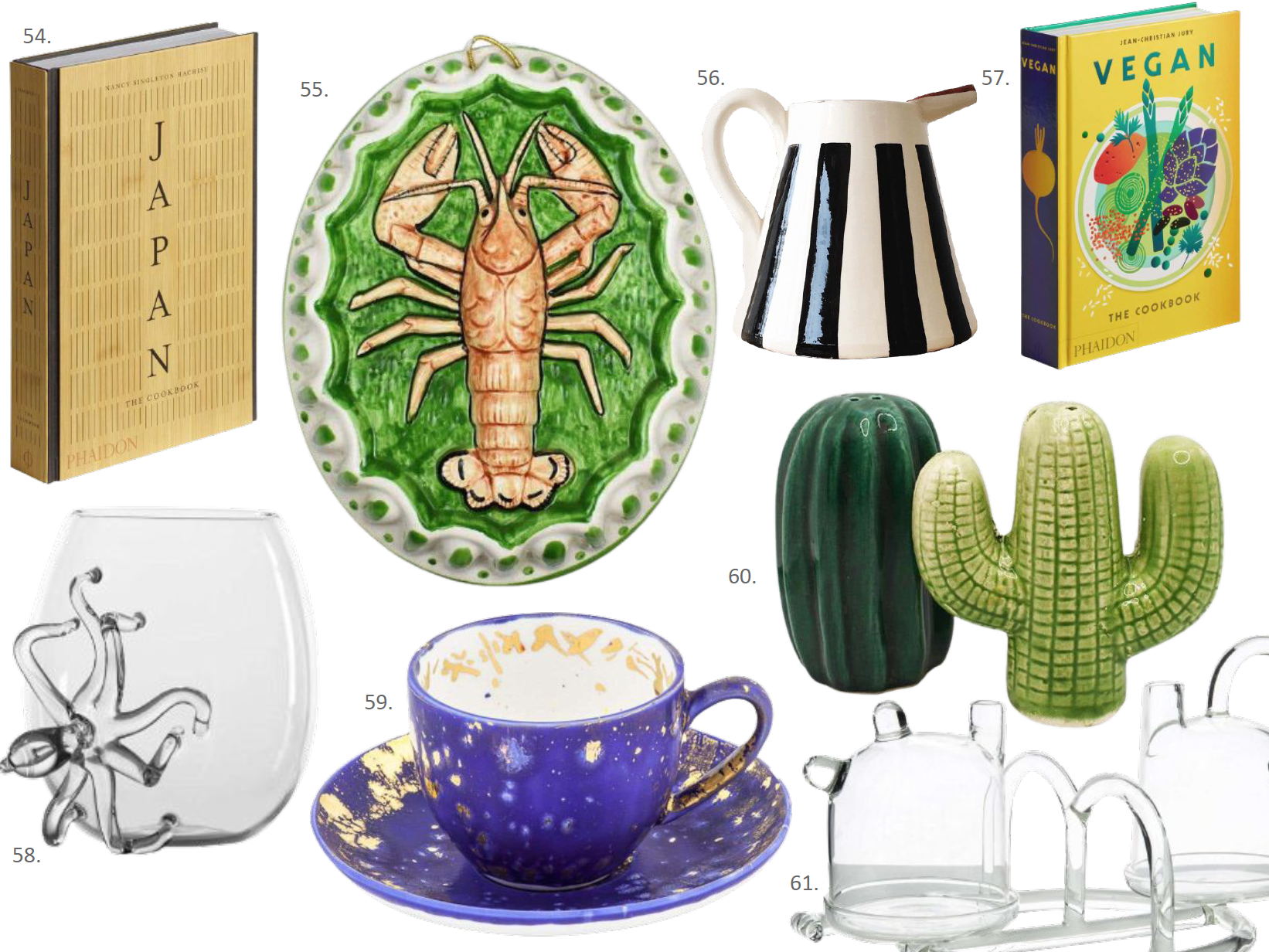 ---

​One last thing...
​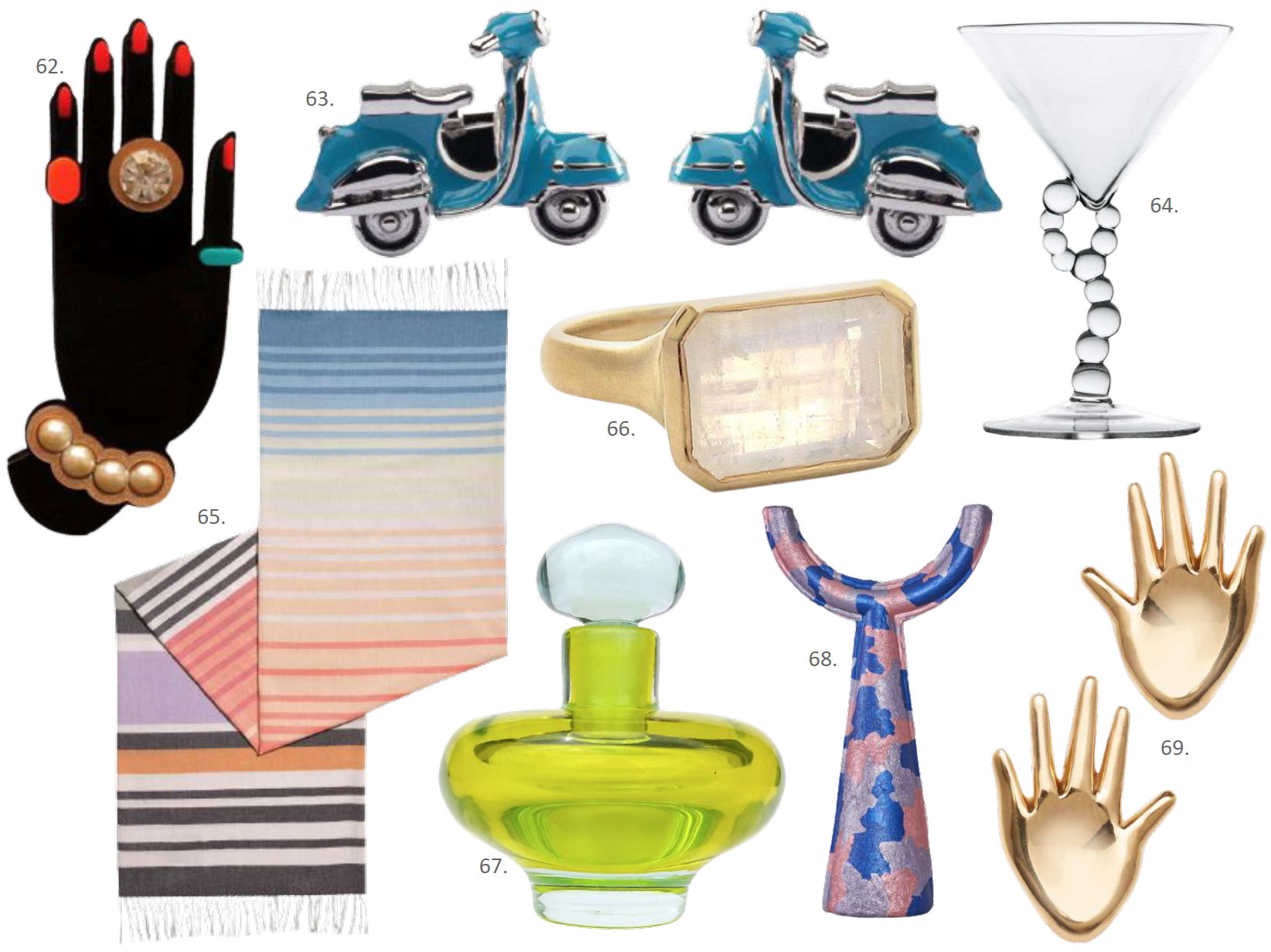 ---
NOTES TO EDITORS:
The Minimalist
​(1) Hand Knotted Wool Bamboo Silk Rug, by Tapis Rouge Atelier, £2,283.07; (2) Large Tray 1 by Sebastian Herkner, £510.32; (3) Concrete Table Lamp 'Nie M' by Bentu Design, £342.61; (4) "Inner Strength" Vase #1, by Ugo La Pietra, £1,319.80; (5) Whisper Box Mini by Nika Zupanc, £391.54; (6) 20th Century Organic Onyx Decorative Bowl, £995; (7) Thin Sterling Silver Astrid Sculptural Ring, by AGMES, £90.36. All available at www.1stdibs.co.uk
​​
​The Maximalist
​(8) Silk Cushion Polipo Octopus, by Fornasetti, £263.96; (9) Danish Dog Sculpture, £1,055.84; (10) Handmade Acrylic Earring, by Gissa Bicalho, £105.42; (11) French 1890s Glazed Majolica Longchamp Terre de Fer Oyster Plate with Flower, £222.13; (12) Valentino Enchanted Wonderland Wool-Blend Bomber Jacket, £2,000; (13) Large Mid-Century Modern Murano Style Glass Vase, £903.59; (14) Fruit Bowl Medium by Matteo Cibic, £607.11; (15) Chanel Vintage Silk Foulard, £307.95. All available at www.1stdibs.co.uk
​​
​The Sybarite
​(16) Yellow Gold Chandelier Earrings, by Mesure et art du temps, £3,167.51; (17) Round Silver Centerpiece, £615.91; (18) Aitana Quartz Coaster 4-Piece Set by CuratedKravet, £105.42; (19) Arthur Court Faceted Quartz California Modernist Ring, £564.74; (20) Very Rare Model 3573 Patek Philippe 18-Karat Backwinder Automatic Watch, £12,047.88; (21) Bulgari Melone Gold Evening Bag, £27,107.73; (22) Antique Victorian 'Italian Ruins Lizard' Horn Brass Letter Opener, £600; (23) Enamel Quartz Miniature Map Clock, £5,873.34. All available at www.1stdibs.co.uk
​​
​The Aesthete
​(24) Yayoi Kusama, Pumpkin, circa 2013-2020, £523.33; (25) Slim Aarons, Lounging In Verbier, 1964, £2,522.53; (26) Chris Hill, Nightfall Dreams, £3,162.57; (27) Original Abstract Art Exhibition Poster, Works by Rosso, Dated 1975, £150.60; (28) Jeff L., Wood and Metal Sculpture, 2021, £195.78; (29) Ai Weiwei, the China Bag 'Zodiac', £376.50. All available at www.1stdibs.co.uk
​​
​The Design-Conscious
​(30) Pink Mould Project by Theodora Alfredsdottir, £175.97; (31) Glass Mobile Spanish, 1960s, £2,750; (32) Ettore Sottsass, Ice Bucket, for Rinnovel, £941.21; (33) El Lissitzky 'Bauhaus' Ceramic Plate, £1355.39; (34) Dariel Studio High Blue Candleholders for Cappellini, £824.53; (35) Modernist Howard Miller 'Museum' Wall Clock, £602.39; (36) Tahiti Table Lamp by Ettore Sottsass, £904.47; (37) Danese Milano Formosa Perpetual Wall Calendar by Enzo Mari, £90.36. All available at www.1stdibs.co.uk
​​
​The Environmentalist
​(38) Display Box Side Tables Covered in Highly Sustainable Cork, £564.74; (39) Ocaso Handmade Wool and Linen Geometric Pillow, £192.01; (40) Small Sustainable Recycled Paper-Mache Mobile Sculpture, £225.90; (41) Red Travertine Sculpted Candleholder by Sanna Völker, £193.57; (42) Glass Fern Serving Bowl, £48.19; (43) Leaves Pedestal Bowl by Evelina Kudabaite Studio, £131.98; (44) Gaïamorphism, Unique Organic Vase, £580.71; (45) Tusk Candle, Natural Beeswax, by UMÉ Studio, £42.17. All available at www.1stdibs.co.uk
​​
​The Preservationist
​(46) English Staffordshire Clock Teaching Plate, £176.95; (47) Full Set of Midcentury Black and White Vintage Dominoes in Original Packaging, £15.06; (48) Christian Dior 18 Karat Yellow Gold CD Logo Cufflinks, £903.59; (49) Unknown, Portrait - Original Drawing by Georges Bastia, £263.96; (50) Vintage Anglo-Indian Hand-Crafted Clutch Purse, £375.74; (51) Tiffany & Co. Sterling Silver Circles and Squares Op-Art Cube Shaped Covered Box, £2,899.02; (52) Moschino by Persol Vintage Sunglasses Mod MM264, £140.78; (53) Pair of Vintage Brass Clam Shell Bookends, £188.25. All available at www.1stdibs.co.uk
​​
​The Epicure
​(54) Japan, The Cookbook, £37.65; (55) Oblong Decorative Ceramic Lobster Wall Hanging, £112.95; (56) Handmade Ceramic Small Pitcher, £45.18; (57) Vegan The Cookbook, £37.65; (58) Handblown Pair of Polpo Glasses by Simone Crestani, £183.89; (59) Set of 2 Coffee Cups and Saucer Hand Painted, £216.45; (60) Green Ceramic Cactus Motif Salt and Pepper Shakers, £45.18; (61) Handmade Contemporary Oil and Vinegar Cruet Tableware Kitchen Set, £341.39. All available at www.1stdibs.co.uk
​​
​One last thing...
​(62) Handmade Acrylic Brooch Hand Black, by Gissa Bicalho, £79.06; (63) Jona Turquoise Enamel Silver Scooter Cufflinks, £175.97; (64) Hand Blown Alchemica Martini Glass by Simone Crestani, £127.58; (65) Aldo Lightweight Cotton Throw, £214.60; (66) Rainbow Moonstone Ring, £320.02; (67) Seguso Vetri d'Arte Murano Sommerso Glass Perfume Bottle, £489.45; (68) Chunk-Candleholder Special, £402.10; (69) Statement Gold Vermeil Dalí Hand Earring Studs, by AGMES, £308.73. All available at www.1stdibs.co.uk
---
FOR PRESS RELEASE ENQUIRIES PLEASE CONTACT:
​[email protected]