1STDIBS REVEALS 2023 TRENDS FROM ITS ANNUAL DESIGNER SURVEY
Grey and white are fading out, making way for the rise of 1980s pastels and chintz, and other design trends
---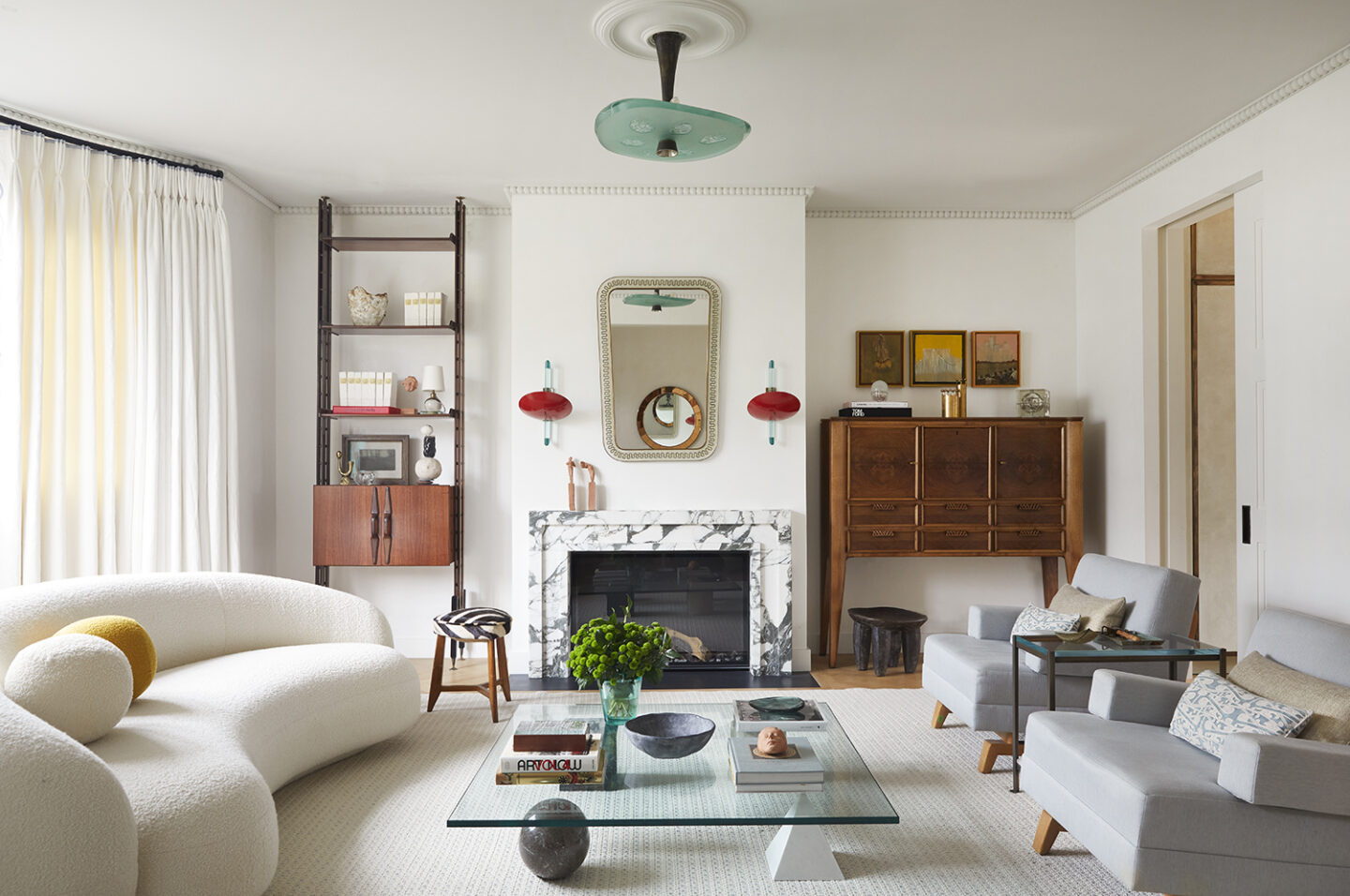 1stDibs, a leading marketplace for extraordinary design, has announced the results of its sixth annual Interior Designer Trends Survey, taken by 880 interior designers from around the world. The data from these expert insights indicate the anticipated 2023 trends, both in terms of what will be popular and what will decline.
"If there's one constant about the design industry, it is that it's always changing. What we consider 'good design' is reliably influenced by a range of sources, from fashion to environmental concerns, pop culture to social media, and more", said Anthony Barzilay Freund, Editorial Director and trends expert at 1stDibs. "By conducting this survey, we can quantify the designers' feedback and better understand their recommendations for creating beautiful spaces that not only dazzle and amaze, but also contribute to living in a better world."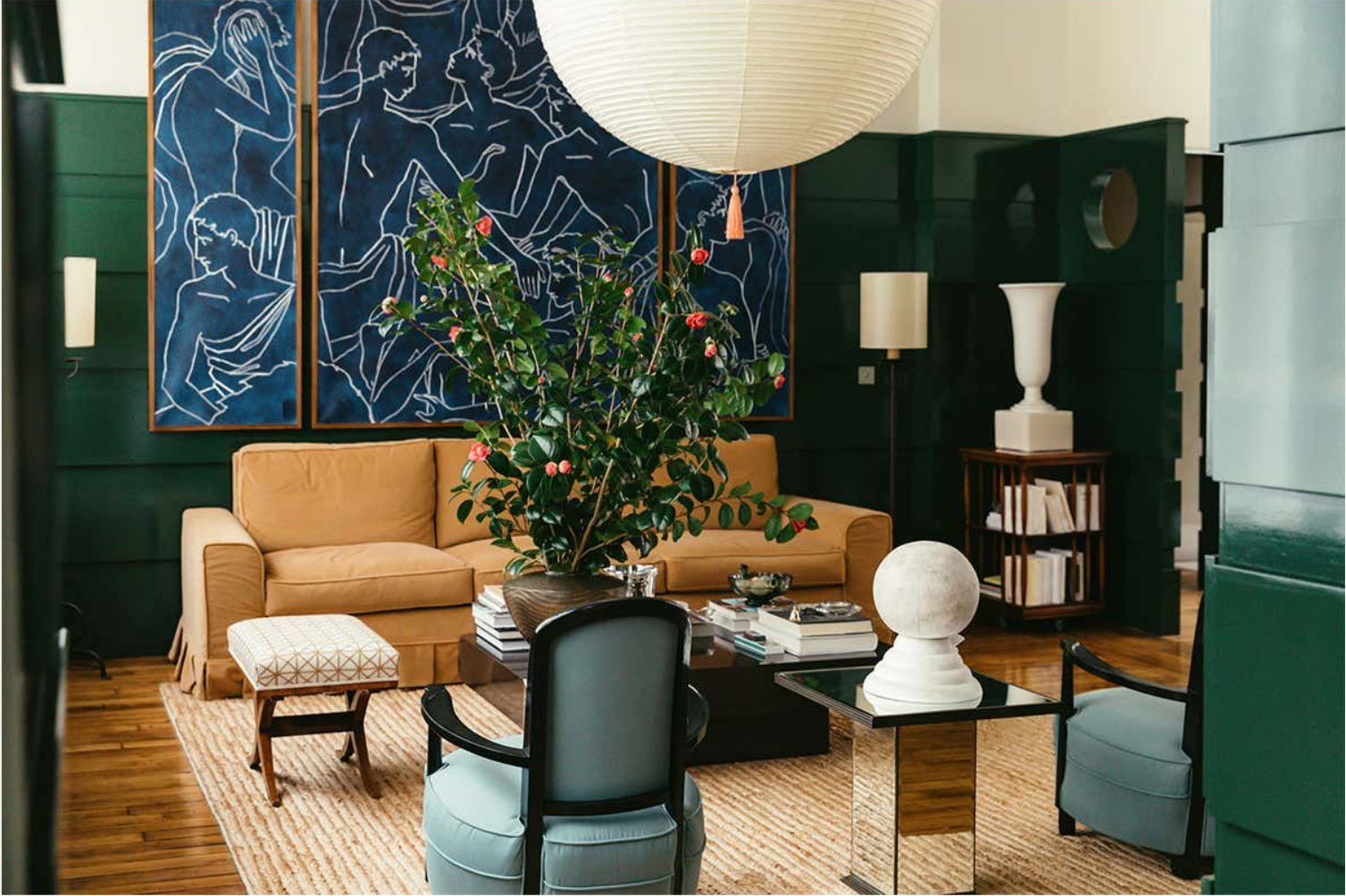 ---
PART 1: WHAT'S IN FOR 2023
Most Likely to Come Back: 1980s Pastels & Chintz 
When asked which of the past seven decades are most likely to make a comeback in 2023, designers said the 1980s (e.g. pastels and chintz), with 28% of the vote. Following this were the 1950s (Mid-Century modern), with 23%. Interestingly, while the 1970s have seen a resurgence across the design space and just last year were indicated as the top era, the trend dropped from 36% down to only 12% in this latest survey. 
Colour Trends: Emerald & Sage Prevail
Regarding colour trends in general, emerald earned the top colour spot of this year's survey for the third year in a row with 23%, enjoying a narrow lead over sage with 22%. Next in line were burnt orange (20%), mustard yellow (20%), and cobalt blue (18%). The biggest spikes in favorability year-over-year were lavender (from 6% in 2021 to 14% in 2022, an increase of +8%) and mauve (from 9% in 2021 to 13% in 2022, an increase of +4%), supporting the idea that 1980s-era colours are making their way back into style. For living rooms, UK designers deemed light brown/tan the 'it' colour for 2023, contrary to the US emphasis on white. 
Sustainability is a Top Consideration 
Over the years, the consideration of sustainability has risen greatly – and this is reflected in this year's survey results. When asked about the likelihood of current trends to continue in 2023, sustainability was the most common answer, receiving a whopping 94% of responses. Other leading trends in the same vein included plants (91%), patterned wallpaper (85%), neutrals (84%) and organic modernism (82%). 
Craftsmanship is Key
The percent of pieces that designers will purchase from artisan makers will continue to grow, expected to be 76% in the UK in 2023. That interest has risen steadily over the years; back in 2019, fewer than 50% of designers expressed this sentiment. This is consistent with the data regarding material choices. When given a list of 18 materials, wood and plaster came in as the top two selections, both receiving 24%. In contrast, shiny surfaces such as chrome were far less popular, chosen by just 6%.
Hot Seats, Ranked
When asked about which 16 iconic seating products will be popular in 2023, the winning lineup included Eames chairs (16%), Vladimir Kagan Serpentine Sofa (14%), Hans Wegner Wishbone Chair (11%), Ligne Roset 'Togo' seating (7%) and the Mies van der Rohe Barcelona Chair (6%). These top five beat several other 'greats', including the Mario Bellini Camaleonda Sofa (5%), Marcel Breuer Wassilly Chair (4%) and the Faye Toogood Roly Poly Chair (2%), among others. 
Integrating Art? Designers Say Sculptures Are In ​ 
When asked which art mediums designers will use more of in 2023, sculptures netted the top response, with 44%. This beat paintings (43%), drawings (33%), photographs (33%), prints (20%), NFTs and digital art (14%) and ephemera posters (6%).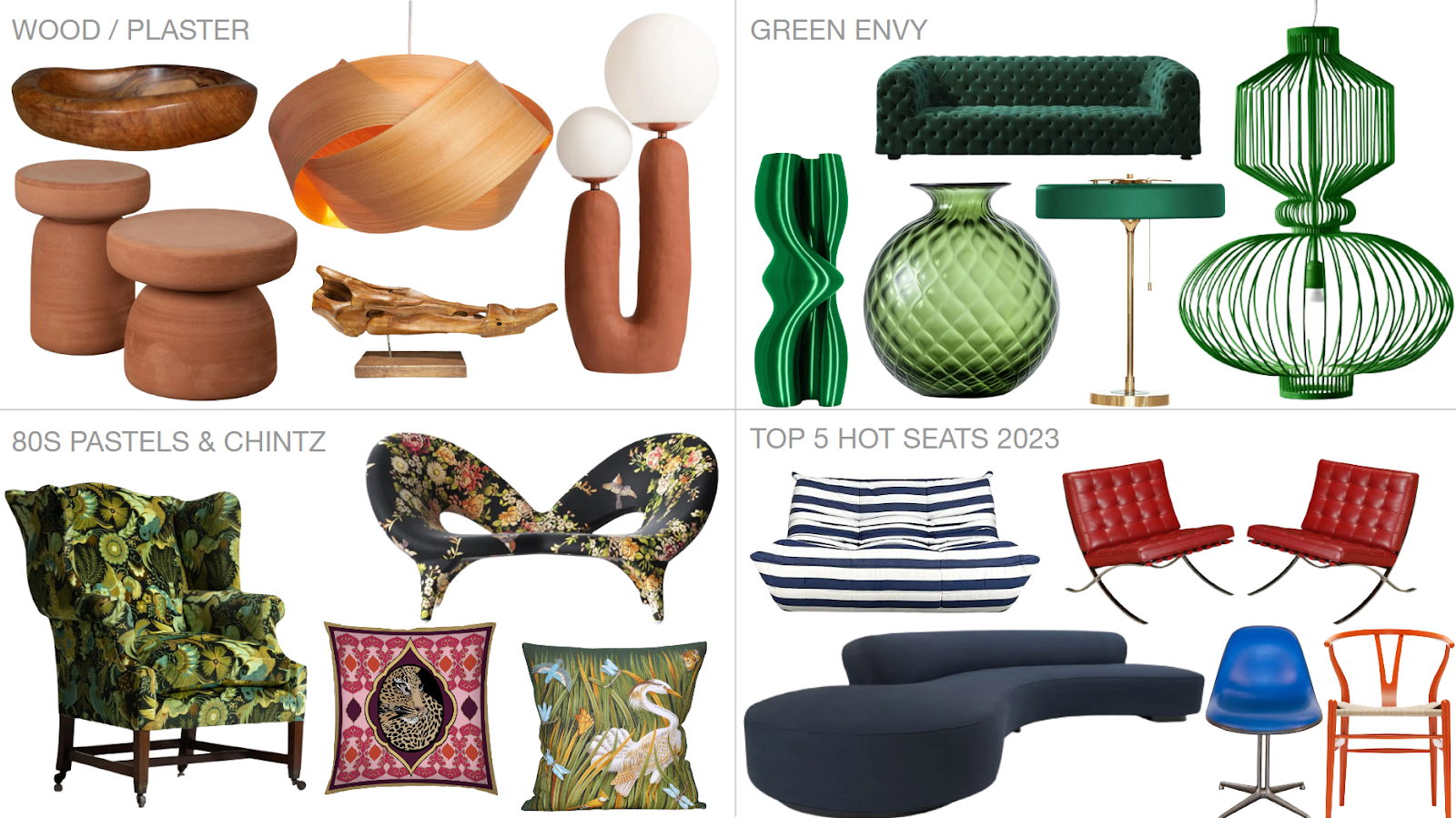 PART 2: WHAT'S OUT FOR 2023
It's Not a Grey Area 
While grey has enjoyed a heyday in recent years as a popular choice for walls, flooring, furniture and more, interest in the colour seems to be fading. When asked about most on-trend hues for 2023, light grey received the fewest votes - coming in at just 5%. Of all the colours, white received the most dramatic decline in popularity, dropping 10 points to 14% in 2022 from 24% last year. 
Animal Prints Hardly Roar 
When asked about popular patterns, animal prints came in at the bottom of the list, earning just 4% of the designers' votes. In contrast, the leading patterns were large-scale prints (21%), organic prints (18%) and florals (16%).
You May Not Want to 'Go for the Gold'
To many designers, materials and finishes are just as important as colour. Rose gold (3%) and gold (4%) were cited as the least popular options for 2023. In contrast, higher-ranking metals included bronze (20%), brass (19%), copper (12%) and nickel (11%). 
The Home Office Loses Steam
During the height of the pandemic, homeowners across the world turned their attention to their home offices. In the last couple of years, however, there has been a decline in the number of actual requests made to designers to create home offices for their clients, from 28% in 2020 to 19% in 2022, a decline of 9%. Designers anticipate that design requests for home offices will decline from a very high 66% that had been predicted for 2021 to 32% in 2023, a drop of -34%.
Items Requiring Customisation Decline 
According to the survey, the percent of pieces that are customised has declined rather steadily, from 58% in 2018 to 47% in 2022. Inversely, the non-customized share has grown to 53% in 2022, up from 43% in 2018.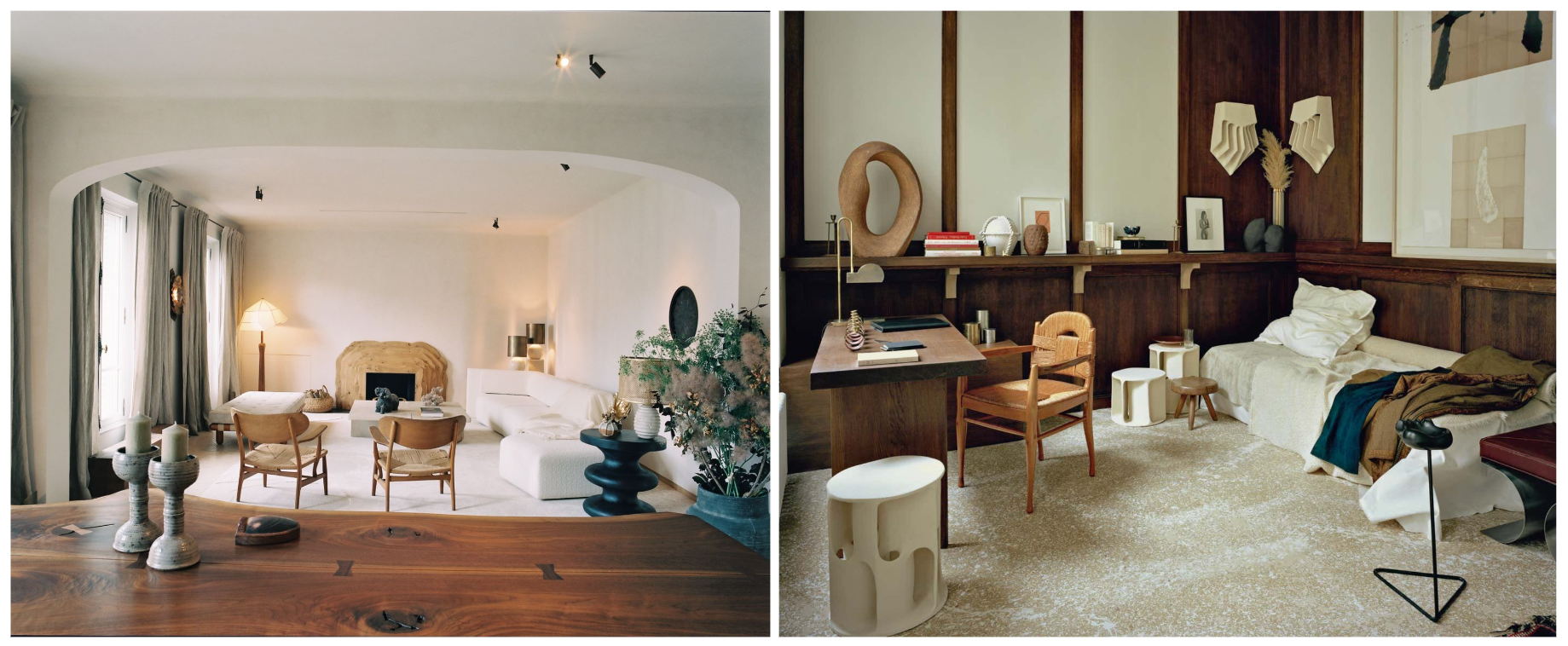 ---
NOTES TO EDITORS 
Methodology of the Designer Survey
​1stDibs commissioned researchers with Surveys & Forecasts, LLC, a full-service strategic research consultancy based in South Norwalk, CT, to conduct more than 880 online interviews between August and September, 2022. The interior designers who were interviewed are part of the 1stDibs Trade 1st Program.
About 1stDibs
​1stDibs is a leading online marketplace connecting design lovers with highly coveted sellers and makers of vintage, antique and contemporary furniture, home décor, art, fine jewellery, watches and fashion.
---
FOR PRESS RELEASE ENQUIRIES PLEASE CONTACT:
​[email protected]