MODERN MAXIMALIST HOMEWARE FROM 1STDIBS AND LA DOUBLEJ
Composed of Ancap porcelain serveware, Como-made linens, and textured soft furnishings
---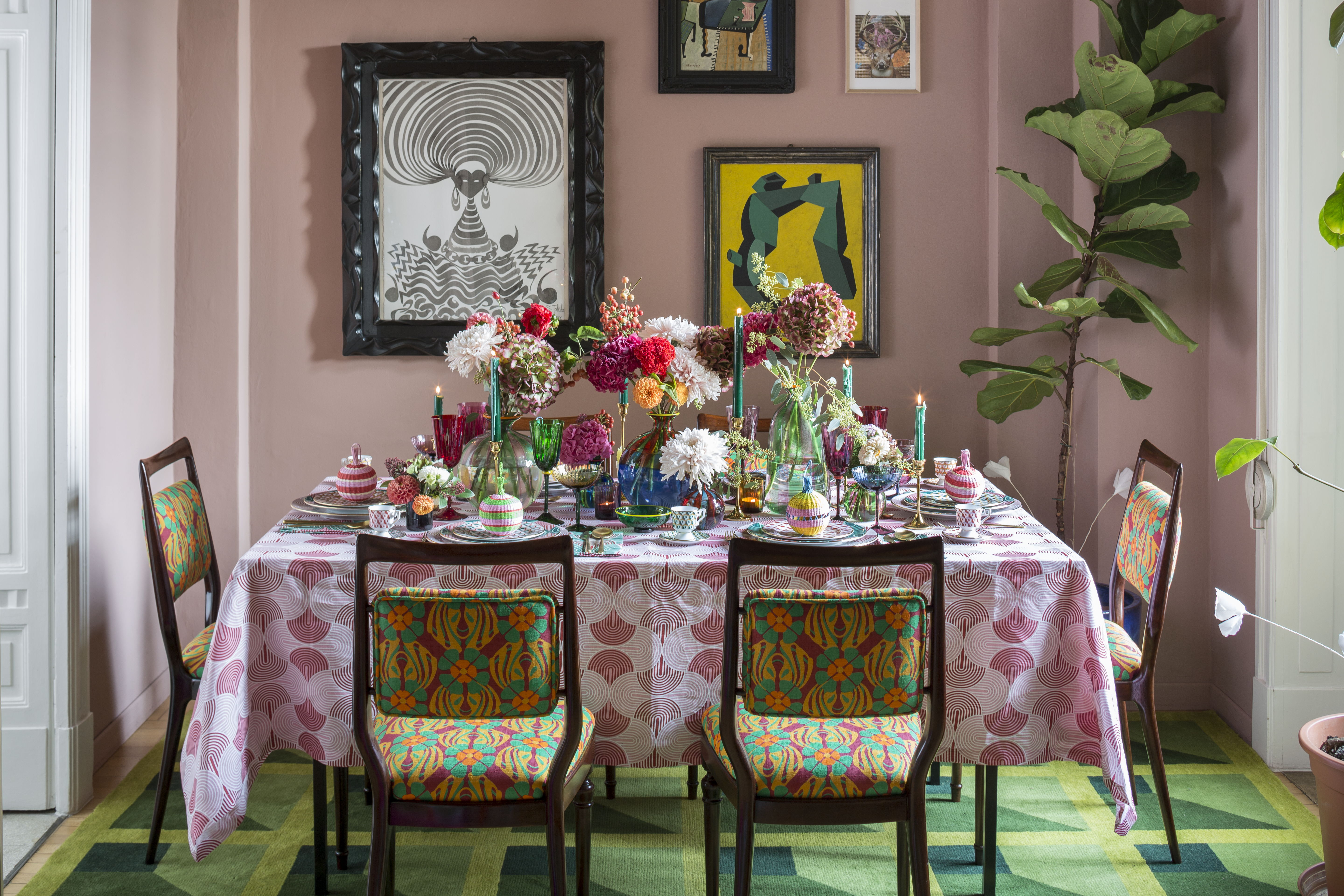 Bringing together a shared passion for vintage design, the collaboration between 1stDibs and LaDoubleJ nods to the Milanese label's roots with a collection composed of Ancap porcelain serveware, Como-made linens, and textured soft furnishings. Every piece in the collection is 100% made in Italy by La DoubleJ's historic partners, a testament to the label's luxury ethos and commitment to supporting Italian craft.
​​
​Giving new life to pre-loved pieces, La DoubleJ Founder JJ Martin has also worked to curate a collection of her favourite vintage furniture finds from the 1stDibs offering, which have then been re-upholstered in her iconic bold geometric prints. Highlights from the range include Cherrywood Chairs found in an aristocratic Brianzan villa featuring the Clover print, and a statement-making Cubi-clad 1960s Bamboo Sofa.
---
New for January 2022, the collaborators have expanded the collection with a signature injection of modern maximalist magic. 
Four luxury cushion designs join the range, featuring strokable Italian-made velvet and silky fringe tassel trims. Bright animal characters adorn each cover, each symbolising an uplifting message for the coming year. A cricket to channel good luck, a jungle-prowling tiger for courage, an owl for sharp vision, and a forest-dwelling deer for grace and compassion. At a plush 55x55cm, the cushions are well suited for both relaxing on the sofa or meditating on the floor.
The animal motifs also find a home on two striking Ancap porcelain trays - one featuring the deer, the other the tiger . An ideal size to fill with nuts or olives to perfect an aperitivo, collect jewellery on a vanity, or place in an entryway for keys and coins. Made in Italy, each tray is gilded with a hand-painted 18k gold trim.

---
ABOUT LA DOUBLEJ:
​La DoubleJ is the multi-tasking Milanese hotspot for heart-lifting fashion and haute homeware brought with a twist, a wink and a smile from its founder, J.J. Martin. Working with best-in-class manufacturers, its 100% made-in-Italy collections shine a light on Italy's artisanal craft and celebrate the Italian art of living well. All of La DoubleJ's creations – from its product design and pop-up shops to its collaborations, wellness workshops and wildly patterned HQ in Milan – are distilled through a lens of pure joy, eye-popping colour and love of all things maximalist.
ABOUT 1STDIBS:
​1stDibs is a leading online marketplace for extraordinary design. Since 2000, we have captured the magic of the Paris flea market, connecting those seeking the most beautiful things on earth with highly coveted sellers and makers in vintage, antique and contemporary furniture, home décor, art, fine jewelry, watches and fashion.
---
FOR PRESS RELEASE ENQUIRIES PLEASE CONTACT:
​[email protected]