GAME, SET, MATCH
The big business of sports memorabilia
June 2021: From used equipment and match trophies to signed autographs and event posters, the multi-billion-pound sports collectibles industry sees unique and often obscure items valued at eye-watering prices. In 2019, the original Olympic Manifesto broke the record for sports memorabilia, selling at an astounding 8.8 million dollars at Sotheby's New York.
On a lesser scale, vintage sports mementos still generate head-turning appetite, and the lack of public sporting events has led to a thirst for nostalgic objects and collectibles. Online marketplace 1stDibs has seen demand growing since March last year, with half of its 10 biggest ever sales taking place in the last 18 months.
Top five most popular sporting collectibles categories on 1stDibs, in order of popularity: Golf, Surfing, Football, Cricket, Tennis
The 10 highest sports memorabilia sales at 1stDibs since 2001: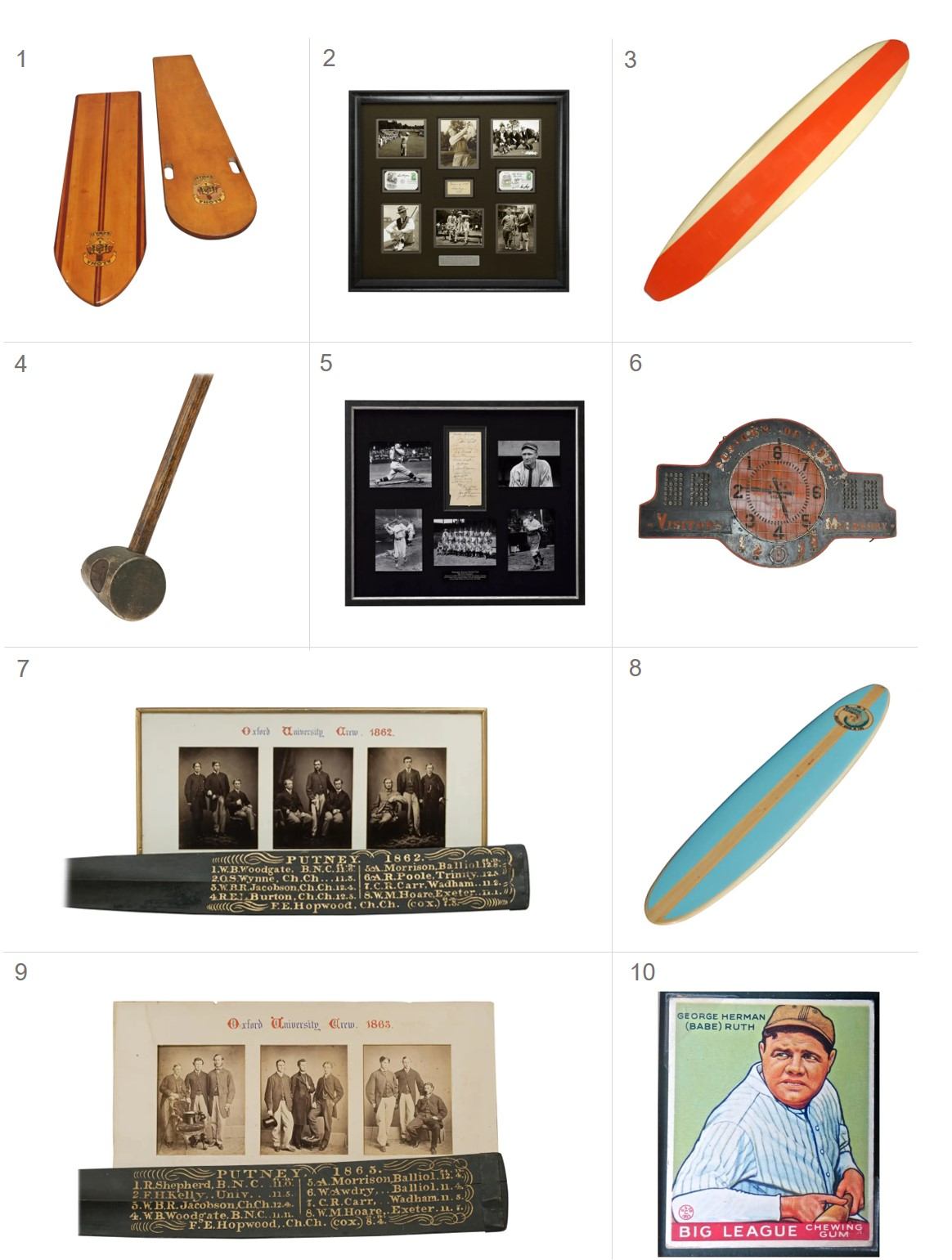 1. Pair of 1920s Paipo Surfboards with Hawaiian Crest: September 2016 ​
​2. Bobby Jones, Walter Hagen, and Golf's Greatest Legends Signature Collage: March 2021
​3. The Endless Summer Surfboard Pig Pop Out after Dale Velzy for Dextra: March 2021
​4. Rare Sir Walter Dalrymple Duplex "Hammer" Golf Club: September 2020
​5. 1929 Washington Senators Baseball Team Autographed Collage: March 2019
​6. Original 1930s American Scoreboard: January 2017
​7. Oxford University Boat Race Rowing Oar 1862, with Photographs: December 2020
​8. Rare Ski N' Dive Custom Tunnel Hustler F.M. Surfboard, Early 1960s: June 2014
​9. Oxford University Boat Race Rowing Oar 1863: March 2020
​10. Babe Ruth "Goudey" #181 Baseball Card, circa 1933: February 2018
On the parallels between art and sports collecting, Anthony Barzilay Freund, 1stDibs Editorial Director, comments:
"Throughout my career, I've often noted parallel character traits between
​art collectors and sports fanatics. They both can be focused on stats and seasonal performance, historical precedents, and standout acts of greatness within a star athlete's or artist's career. It's no surprise, therefore, that many sports fans are avid collectors of memorabilia and sports-related artworks."